Starting my hobby with passions...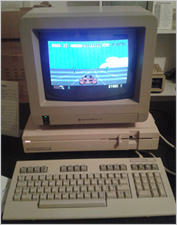 In 1986 my father brought home a Commodore 128D Computer which hooked up to the back of the TV. With 5.25" Floppies and joysticks, I played many popular games. I used that computer to teach myself BASIC a couple of years before my classmates and I would find that the school had a room of Assembled IBM compatible computers for us to learn on. It's been love ever since.

My passion in this hobby that bring me to find the old computers, video game consoles, software, manuals and any related peripherals and to try to repair these machines, polish them and sorting them according to timeline.

These days my collection is a lot smaller but I still enjoy collecting and I am smoothly updating my website and sorting out my collection. More...